CELEBRATIONS YOU'LL ALWAYS REMEMBER!
BIRTHDAY PARTY PACKAGES Book Now!
Birthday Parties FAQ
Q: Is there a minimum purchase requirement?
A: Yes. The requirement varies depending on your party's date, time, guest count and room selection. For more details,
book online
.
Q: How much is the event deposit?
A: The event deposit varies depending on your party's date, time, guest count and room selection. For more details,
book online
.
Q: Is my event deposit refundable?
A: Your event deposit is refundable with a 72-hour advance cancellation notice.
Q: How long is a birthday party?
A: A birthday party includes a reserved room with for 1 hour and 30 minutes. You and your guests will also enjoy our rides, games and attractions in Fun World during this time. You may stay and play as long as you want in Fun World.
Q: What happens during my birthday party?
A: A lot goes on during your birthday party! The flow of your party includes:
You and your guests may go to the buffet for food and drinks.
They can revisit the buffet at any time
IncrediBear stops by for a visit!
Sing Happy Birthday and enjoy your Birthday Cake or Desserts from our Buffet.
If you choose, birthday gifts will be opened.
FunCards provided to kids and its time to ride and play games!
You and your guests can relocate to available seating in one of our themed Dining Rooms, Fun World Café or have more fun in the game room.
Q: May I bring a birthday cake?
A: John's offers cakes for purchase or you are welcome to bring your own cake whether or not you book a birthday party. Cakes will be disposed at the end of the party reservation.
Q: Are there any restrictions for the rides and attractions?
A: Yes, some rides and attractions are subject to height and weight restrictions.
More Information
Q: I want to play a DVD during my event, what format does it need to be in?
A: Parties booked in a private room have a DVD player. If you are burning your own DVD, make sure to use a DVD–R disc and burn it into a movie. Free software such as
Windows Movie Maker
or
iMovie for Mac
can take your photos and make them into a DVD movie.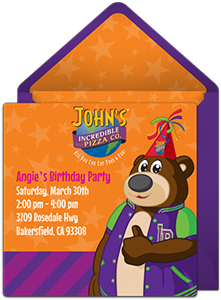 Let your guests know about your event with free personalized invitations from Punchbowl!
*Prices subject to change.
*Gratuities not included.
*Unlimited Beverages excludes alcohol.
*Advanced booking required.